4-20 mA STs Series Conductivity Sensor/Transmitter
pHionics has combined a conductivity and temperature sensor with an isolated, 2-wire, 4-20 mA transmitter into a single, compact device that provides exceptional durability and accuracy.  The 4-cell electrode with removable guard allows for easy cleaning and prevents common problems such as polarization and debris build-up that would otherwise interfere with measurements of conductivity, salinity, or total dissolved solids.  Our electrode is also made with chemical-resistant Delrin® which allows us to extend our 2-year warranty to the electrode (The electrode and sensor/transmitter can last up to 20 years with proper care, providing significantly better long-term value over competition).
Combined with the small diameter (0.75" or 19mm) to reduce installation costs, the features of the pHionics STs Series™ Conductivity Sensor/Transmitter guarantee accurate conductivity measurement and excellent long-term value.
The 2-wire, 4-20 mA output allows for easy connection to any analog datalogger, controller, or PLC.  For datalogging applications, we recommend pairing our devices with the HOBO RX3000.
We offer the following ranges:
0-100 µS/cm
0-200 µS/cm
0-500 µS/cm
0-1000 µS/cm
0-2000 µS/cm

0-5000 µS/cm
0-10,000 µS/cm
0-20,000 µS/cm
0-50,000 µS/cm
0-100,000 µS/cm
Pricing
Please see our STs Series Conductivity Sensor Price List for more information on available options and pricing.  Our spare parts pricing is available here.
All STs Series base prices include a 25 ft (7.62 m) cable or 1″ MNPT DIN connector. 
Noise Reduction
From crystal-clear streams only touched by radio frequencies to wastewater treatment plants surrounded by heavy machinery, background noise and interference is everywhere.  Our signal conditioning removes background (common-mode) noise from the measurement to ensure high accuracy.  The signal is also sent through a differential amplifier to strengthen it before traveling through a twisted-pair, shielded cable that protects the amplified 4-20 mA signal until it reaches the datalogger or controller.
Click here to learn more about eliminating background noise.
Ease-Of-Use
Typical 2-wire transmitters are relatively easy to set up but improper wiring can result in damage to the transmitter or expensive controller.  The STs Series prevents damage with a reversible input protection so the two wires per parameter can be switched without performance issues.  Additionally, all parts, cable included, are quick and easy to replace without any special tools.  This cuts down on maintenance time and costs, especially in circumstances where cable damage otherwise requires complete replacement of traditional sensors and transmitters.
Isolation
Isolation removes ground loop interference to save troubleshooting time and money by preventing damage to connected electronics in the case of power surges up to 600V.  This allows the STs Series to be used in process control applications without worrying about different grounding potentials of the solution or mounting surface.  It has the added benefit of protecting connected devices and people if exposed to large amounts of current caused by damaged machinery or improper wiring.
Learn more about the importance of isolation in water quality measurements.
Low Power Usage
Sensors and transmitters made by other competitors commonly use more current than the 4-20 mA signal to power their devices, ranging from 3-15 mA additional.  pHionics only ever uses the amount of current required for the signal, allowing STs Series devices to function between 60% to 375% longer on the same battery.  The STs Series also only requires 8 VDC and has a three second turn-on time, further reducing power usage.
2-wire, 4-20 mA Conductivity Sensor/Transmitter
Output
4-20 mA
Conductivity Range

0-100 µS

0-200 µS

0-500 µS

0-1000 µS

0-2000 µS

0-5000 µS

0-10,000 µS

0-20,000 µS

0-50,000 µS

0-100,000 µS

Electrode Type
4-cell
Transmitter Type
2-wire
Automatic Temperature Compensation
2% per °C
Isolation
600 VDC
Power Supply Voltage
8-40 VDC
Loop Impedance (Max)

200 Ohms at 12 VDC

800 Ohms at 24 VDC

1600 Ohms at 40 VDC

Response time
95% < 5 seconds
Pressure Range
0-50 psi
Wetted Materials
316 SS, Delrin, Viton, glass
Length
14.50 in (36.83 cm)
Width
0.750 in (1.9 cm) maximum
Weight (No cable)
0.50 lbs (0.227 kg)
Linearity
± 1.00% of full scale*
Accuracy
± 1.00% of full scale*
Sensitivity
± 0.05% of full scale
Stability
± 0.10% of full scale
Repeatability
± 0.10% of full scale
*After proper calibration
2-wire, 4-20 mA Temperature Sensor/Transmitter
Output
4-20 mA
Temperature Range
0-50°C
Power Supply Voltage
7-40 VDC
Loop Impedance (Max)

250 Ohms at 12 VDC

850 Ohms at 24 VDC

1650 Ohms at 40 VDC

Isolation
600 VDC
Cable
| | |
| --- | --- |
| Cable Material | Polyurethane |
| Type | 4 conductor, Kevlar reinforced, water blocked, shielded, twisted-pair wiring |
| Maximum Distance | 3 miles |
| Replaceable? | Yes |
The sensor/transmitter and cable can be submersed in any body of water to approximately 100 psi or mounted in a stilling well along a river to prevent the transmitter from being moved by the currents and hitting stray rocks.  They can be freely suspended by their Kevlar-reinforced cable, or, permanently mounted in a cooling tower, process tank, or in a manhole of a sewer system.  The sensor/transmitter can be readily mounted in an insertion or submersion manner simply by placing a 3/4″ MNPT gland (compression) fitting in the position desired.  In-line mounting can also be achieved by choosing our 1" MNPT DIN connector option, which replaces the cable assembly.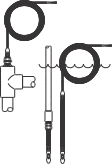 For submersion applications, the best placement of the gland fitting is between the indents of the sensor with the threads directed toward the cable end of the sensor.   However, for the best results, the gland should be mounted towards the cable end of the transmitter housing, as this allows for the temperature output and the temperature compensation to achieve the best results.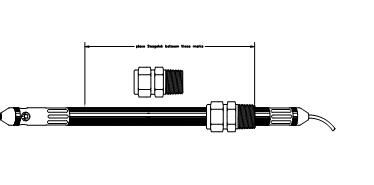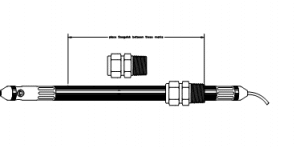 Tighten the fitting until it firmly grasps the sensor – do not over-tighten or clamp down upon the O-rings – potentially damaging the seals.  The fitting would then be threaded and sealed into a 3/4″ NPT female fitting attached to a section of pipe extending to the length desired for monitoring or controlling a process in a tank or well, for example.  The material selected for this should be compatible with the solution in which it is submersed.  Inexpensive 3/4″ PVC will work quite well for most applications.
The fitting would then be threaded and sealed into a 3/4″ by 1-1/2" adapter for use in 1-1/2" tee or a tank adapter extending to the length desired for monitoring or controlling a process in a tank or pipe, for example.  The material selected for this should be compatible with the solution in which it is in contact.  For most parameters (except for conductivity and temperature) the sensor end of the sensor/transmitter should be angled at least thirty degrees below the cable to prevent air entrapment in the reference solutions or measurement electrode. Care must be taken to assure that the stainless-steel housing is contacting the solution to be measured – or the differential amplifiers will not perform properly – making the measurements appear to be erratic.
In insertion applications, extreme care must be observed when inserting or removing the sensor/transmitter – 100 psi can turn the sensor/transmitter into a lethal projectile – ripping conduit off of walls – as well as causing serious injury or death due to trauma or contact with the solution.  pHionics is not responsible and does not warrant insertion applications – proceed with caution.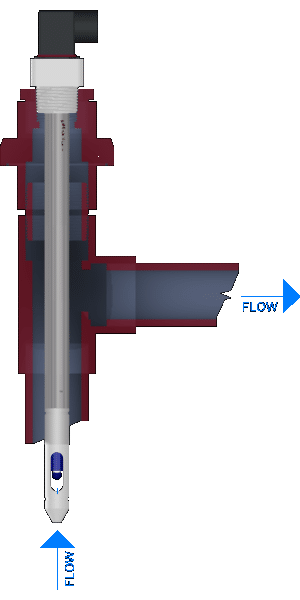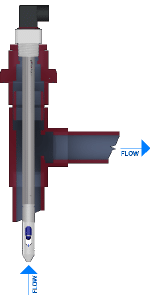 For many insertion applications, the pHiDIN connector option will simplify a safe and easily serviceable implementation.  The connector has a 1" NPT PVDF fitting that is compatible with most industrial applications (not all – please check chemical compatibilty charts), and a common DIN connector that can be easily wired with inexpensive instrumentation cable and flex conduit.  Insertion depth is approximately 12.75 in or 32.39 cm.  The configuration shown here takes advantage of popular, and therefore inexpensive, 1-1/2 inch NPT fittings that allow for ease-of-service and safe removal or insertion of the sensor/transmitter.  This union is an order-of-magnitude less expensive than many commercial mountings required for conventional industrial sensors.