pHionics (pronounced fi-awn'-iks or faɪ'ɑnɪks ) was founded in 1982 as a water treatment system design and service company by an engineer that had spent the 10 prior years working in the R&D department of a large company developing water quality instruments.  Through years of experience designing systems for companies such as IBM, Lawrence Livermore Berkeley Labs, Ametek, and Hewlett Packard, we found that even the best sensors of the time were inadequate for providing the reliability, low-maintenance, and ease-of-use that our clients deserved — so we built our own.
The evolving design addressed many industry issues such as water ingression, electrode instability/poisoning, complicated installations, and electrical interference.  Soon after release, datalogging and water treatment system manufacturers began private labeling our sensors to replace their own.  By 1991, pHionics transitioned fully to sensor manufacturing and has been continually improving the sensors since then.  Some notable improvements include:
Early adoption of surface-mount technologies (1987) resulting in industry leading miniaturization
Extremely reliable double O-ring seals
Patented pHiConn™ connector system allowing for easy removal of cable or electrode without tools
Built-in isolated 4-20 mA transmitter in the smallest diameter housing
Development of the pHiKlip system for implementation of redundant or multiparameter arrays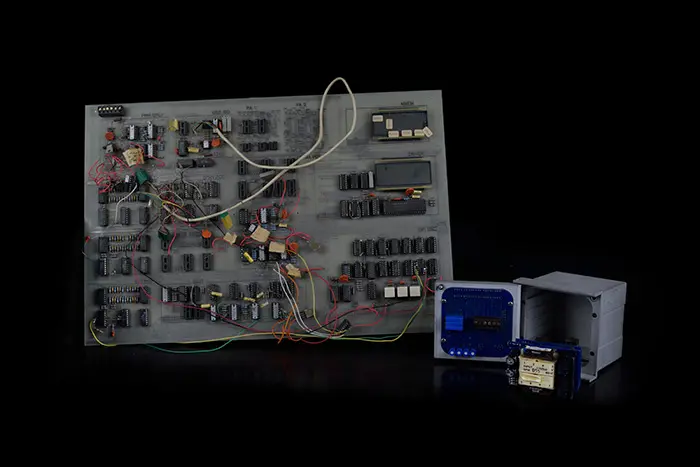 Before (left) and after (right) incorporation of surface-mount technologies.
pHionics' creative spirit has contributed to the successful completion of several Small Business Innovation Research awards (SBIR Phase l and Phase ll), which—to date—has resulted in the generation of the following U.S. Patents: 6331117, 6612848, 6824394, 6834560, 6993988, and 7293746. 
Regardless of what we are researching, our focus remains on providing reliable, low-maintenance, and easy-to-use sensors for pH, ORP, dissolved oxygen, and conductivity measurement—along with excellent customer service to ensure a great experience.