Managing Water Quality in Aquaculture
Introduction
Annual demand of seafood has increased significantly over the past 50 years, from less than 50 million metric tons to over 175 million metric tons.  Due to the unsustainable nature of fisheries catching wild seafood, the aquaculture industry has accounted for most of this increase.   Industry growth is also expected in the future as the world's meat demand continues to rise.
Aquaculture is found to be one of the most efficient means of meat production, as shown by the feed conversion ratio provided by National Geographic in the article How to Farm a Better Fish.  In many cases, however, farmed seafood is not nearly as efficient as it can be due to poor water quality inhibiting livestock growth.  Exact methods of improving conditions vary depending on the type of aquaculture setup, so this article focuses on what parameters must be controlled and how to measure them, as opposed to specific methods of control.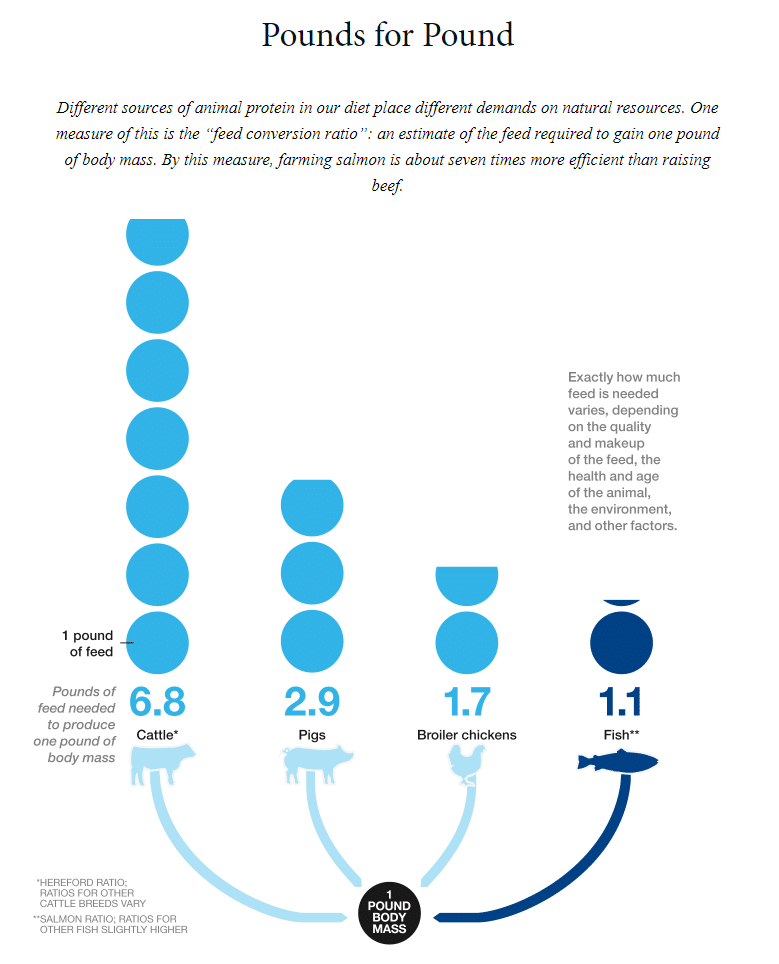 Methods of Measurement
Here is a quick review of several different techniques commonly used to measure water quality parameters:
Colorimetric
This method involves obtaining a water sample and adding specific chemicals that change color depending on the concentration of a parameter (e.g. ammonia levels).  These tests are evaluated either by eye in the field or by spectrophotometry in the lab.  Colorimetry is generally low-cost (if evaluated by eye) and requires little technical experience to understand but is the least precise and slowest methods of measurement.
Benchtop meter
These meters use specific electrodes to precisely determine a given water quality parameter.  They are useful when water samples are collected periodically (once per day or week) and brought back to a lab so numerous water quality parameters can be tested on the same sample.  Different models range in accuracy, speed, and cost, but are generally more accurate, faster, and more expensive than colorimetric tests.
Handheld meter
Both benchtop and handheld meters are used for periodic sampling but handheld meters have the benefit of being able to test multiple points in a body of water.  Most parameters are stratified in the water to some degree so an operator can measure multiple points in one visit to obtain a clearer understanding of water conditions.  A handheld meter generally is the same speed, lower accuracy, and lower cost than a benchtop meter.  The increased portability makes it a good option for testing multiple ponds or tanks.
Mounted sensor
Mounted sensors are used for continuous monitoring of parameters that change rapidly (in minutes or hours) and can cause loss of livestock.  In their most basic functionality, sensors are used to alert an operator if parameters are approaching dangerous levels so preventative measures can be taken.  In a more complex setup, sensors automatically trigger pumps, filters, or aeration and only require human intervention if errors occur.  Mounted sensors provide the most complete and accurate monitoring for safety of livestock but are the most expensive.  This automation reduces cost in the long term because fewer employees are required for operation and resources are more used more efficiently.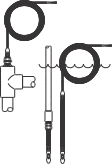 Important Water Quality Parameters for Aquaculture
Ammonia
Nitrogenous compounds are added to aquaculture systems through food (especially high-protein food) and fertilizer.  Much of the introduced nitrogen is broken down by organisms in the system to produce ammonia.  Ammonia can be found in two forms—one form that is toxic and one form that is significantly less toxic.  The toxic form is known as un-ionized ammonia (NH3)and stresses many organisms at levels above 0.02 mg/L.  The significantly less toxic form is called ammonium (NH4+).  There is almost always some amount of ammonia present, but which form it takes varies greatly depending on the temperature and pH.
At 7 pH or below, nearly all the ammonia (approx. 99%) is in an ionized form because there is a sufficient supply of H+ ions available to bind with. Above 8 pH, the toxic form becomes present at anywhere from 1-10% of the total ammonia concentration.  The actual percentage depends on temperature, with higher temperatures causing an increase in un-ionized ammonia.  A table is provided below with exact percentages.
Percentage of Un-Ionized Ammonia at Specific pH and Temperature
Francis-Floyd, Ruth & Petty, Denise & Pouder, Deborah. (2021). Ammonia in Aquatic Systems1.
While keeping ammonia in a less toxic state prevents deaths, it is best to avoid build-up entirely.  Removing ammonia can be done by having a strong filtration system, nitrifying bacteria, or both.  Nitrifying bacteria are always present but require stable water conditions to effectively break down ammonia into nitrogenous compounds that are less harmful to livestock.  Ranges of acceptable conditions are provided below:
7-8.6 pH
75-85°F
At least 1.5-2.0 mg/L dissolved oxygen
No presence of heavy metals such as zinc or nickel
No presence of organics (Aniline, ethylenediamine, hexamethylenediamine, monoethanolamine)
Monitoring Ammonia in Aquaculture
All measurement methods previously discussed can be used for ammonia concentration.  By maintaining neutral pH, having good filtration, and keeping parameters in range for nitrifying bacteria, it is relatively easy to control ammonia so only periodic measurements (weekly-biweekly) via handheld, benchtop, or colorimetric are required.  Increase testing frequency whenever ammonia is found in the water until it is gone.  Ammonia should always be tested for when livestock experience any illness.  
For more information, please visit the following sources:
Managing Ammonia In Fish Ponds
Temperature
Temperature is one factor that has a significant effect on the growth rate of farmed fish.  Higher temperatures increase their metabolic rate while lower temperatures do the opposite.  There is, of course, no single temperature that can be widely recommended, as each species prefers different environments. 
While temperature is important for the health of the fish, the ability to control this parameter depends on the type of aquaculture system used.  Any operations built inside or exposed to natural waterways have trouble controlling this factor because heating an entire stream or lake is both cost-prohibitive and extremely detrimental for the surrounding environment.
Inland pond cultures or indoor operations have a much easier time monitoring and controlling temperature because their systems are typically smaller.  Small systems are also more sensitive to temperature fluctuations, making monitoring more important.  Regardless, most aquatic organisms have a wide range of temperatures they survive in so monitoring this parameter is not as important as others, such as pH.
Monitoring Temperature in Aquaculture
Temperature can be measured by any handheld meter or mounted sensor depending on frequency of measurement.  Temperature measurements are often included with other water quality instruments so a discrete sensor is rarely required.
pH
pH is the number of free hydrogen ions (H+) in an aqueous solution and is measured on a logarithmic scale from 0-14.  A solution is more acidic (< 7 pH) when more H+ ions are available, and more basic (> 7 pH) when less are available.  The optimal range for most aquatic organisms is between 6-8 pH, with some preferring slightly higher or lower than that.
Nearly all aquaculture systems experience a pH level that cycles throughout the day due to photosynthetic organisms.  Photosynthesis converts acidic CO2 into O2 when exposed to sun, slowly causing an increase in pH throughout the day.  At night, the opposite occurs.  As discussed in the Nitrogenous Waste section, higher pH conditions create a more toxic environment due to an increase in un-ionized ammonia.  Knowing when these conditions occur is imperative to the survival of livestock.
 Why pH Cycles Throughout the Day

During the day, sunlight reaches plants and other photosynthetic organisms living in water.  They perform photosynthesis, which removes acidic carbon dioxide (CO2) to produce dissolved oxygen (DO) and glucose (C6H12O6).  When sunlight is not available (at night or from cloudy weather), photosynthetic organisms switch to respiration to use the energy stored in glucose, breaking it down to release CO2 and decrease pH. pH and DO are typically lowest right before sunrise.
Monitoring pH in Aquaculture
Smaller bodies of water (inland ponds, indoor tanks) are less likely to follow a consistent rise and fall of pH, especially when densely packed with fish.  The pH balance is fragile and can quickly exceed healthy levels for fish if not properly maintained.  As such, it is one water quality parameter that should be measured constantly with a mounted sensor to ensure preventative measures are taken before any fish die off occurs.  With the internet of things (IoT) becoming a reality, it is now possible to fully automate a system that maintains the pH balance to significantly reduce manual labor and improve the health of fish in the long run.
Alkalinity
Alkalinity is the buffering capacity of water–essentially how resistant water is to decreases in pH.  It is typically expressed as ppm or mg/L calcium carbonate and is a measure of how many negative ions (Carbonate and bicarbonate) are present.  These compounds bind with excess hydrogen ions that would otherwise turn the water more acidic, thereby limiting changes in pH until the alkaline ions are used up.  Ideal ranges are between 50 and 200 ppm
Alkalinity values are dependent on the surrounding geology as different soils/stones–such as limestone–release more alkalinity than others.  In locations where alkalinity is low, it is often necessary to adjust levels by adding limestone or sodium bicarbonate to prevent changes in pH.  Weather and other seasonal variations also increase or decrease alkalinity by causing evaporation or adding water, respectively.
Nitrification is one process that significantly reduces levels of alkalinity in a matter of days because it releases hydrogen ions.  This is another reason why controlling the ammonia levels in aquaculture systems is essential.
Monitoring Alkalinity in Aquaculture
See Monitoring Hardness.
Hardness
Hardness, or Total Hardness, is the opposite of alkalinity.  It is a measure of positive divalent ions (calcium, magnesium, strontium, iron, and manganese) present in water.  It is, somewhat confusingly, also measured in ppm or mg/L calcium carbonate and should be above 50 ppm.  Hardness and alkalinity often track each other because salts used to change one parameter, such as calcite (CaCO3), usually have a cation (Ca2+) and an anion (CO32-) that increase both.  Levels change depending on the surrounding environment, as some soils leach ions into the water while others remove them.
Monitoring Hardness in Aquaculture
Measuring both alkalinity and hardness involve the use of colorimetry and a meter (typically benchtop).  A titration is performed on a water sample by adding acid or base until the sample reaches a certain pH, at which point a color change occurs.  The amount of acid or base added is directly proportional to alkalinity and hardness.  These tests should be performed periodically (weekly to monthly) depending on how much they change.  Continuous monitoring of pH also provides an estimate buffering capacity in the water based on pH fluctuations, further reducing the need for testing alkalinity and hardness.  Alkalinity and hardness analyzer systems are available that perform these tests automatically, but they are not generally required for aquaculture due to the infrequency of testing.
Check out this review for an in-depth look at alkalinity and hardness:
Alkalinity and Hardness: Critical but Elusive Concepts in Aquaculture
Salinity
Salinity is a measure of the amount of salt dissolved in water and is typically expressed in ppt or mg/L, though the official salinity scale in research is technically unitless.  This water quality can change when a significant amount of water leaves (e.g. precipitation) or enters (e.g. rain) the system so salinity varies with weather and season.  Ideal ranges depend entirely on the species.

Monitoring Salinity in Aquaculture
In most aquaculture systems, salinity varies only slightly day-to-day, so infrequent measurement (weekly-monthly) is required using a refractometer or salinometer.  For systems that experience significant, rapid changes which may be detrimental to livestock, continuous monitoring using a conductivity sensor is recommended for preventative measures to be taken.
Dissolved Oxygen
Dissolved oxygen is a measurement of how much O2 is present in a liquid at a given time.  It is measured in mg/L or percent saturation and healthy ranges vary significantly between species.  Dissolved oxygen is the most important water quality parameter to monitor because oxygen levels can drop extremely quickly, resulting in fishkills after a few hours.  Even slightly reduced levels induce stress and increase susceptibility to disease, leading to lower growth rates or the loss of livestock.  To prevent this, consistent monitoring of dissolved oxygen is necessary, along with a good aeration system to counteract when levels decrease.  Understanding how and when dissolved oxygen levels drop is important to properly time the aeration system and avoid wasting resources by running aeration systems longer than necessary.
Temperature, pressure, and salinity all affect the amount of dissolved oxygen that water can hold.  While pressure and salinity are not likely to change rapidly, knowing the lows and highs of temperature throughout the day allow for preventative actions to be taken.  Check out our article Factors Affecting Dissolved Oxygen for more information on the mechanisms behind these three environmental factors.
Other factors that influence dissolved oxygen include livestock oxygen use, amount of photosynthetic biomass, and weather.
As livestock grow, so do their dissolved oxygen requirements. Knowing their total biomass is key to understanding exactly how much they need and how quickly the current supply could be used up.
The amount of photosynthetic biomass is also important to be aware of because, while these sources produce oxygen during the day, they use it up at night during respiration. Fishkills occur most often before sunrise because that is when oxygen levels are lowest.
Specific weather conditions also affect dissolved oxygen levels. When the weather is cloudy, little sunlight reaches photosynthetic organisms in the water and they switch to respiration.  If it is also a warm day, then a thermocline develops that stratifies the water, circulating the oxygenated water at the top while depriving the depths of oxygen.  Organisms at oxygen-deficient depths develop oxygen demand that cannot be met. Warm, cloudy days are common before a storm in the summer so, after this oxygen demand develops, wind and rain follow to disrupt the thermocline that develops.  While this may sound like a good thing, oxygen-deprived organisms quickly intake the oxygen when it reaches them, causing a severe drop in oxygen that may lead to a fishkill.  See the set of images to the right (desktop) or below (mobile) for a visual example of this phenomenon.
Signs that oxygen is depleted include:
Fish near surface gulping for air (piping)
Fish stop feeding
Rapid change in water color due to algal bloom
Strong stench from water
Extended period of hot, cloudy weather
Heavy summer wind and rainstorm
How Weather Causes Low Dissolved Oxygen Levels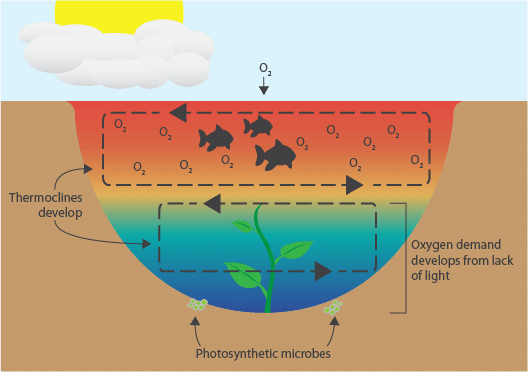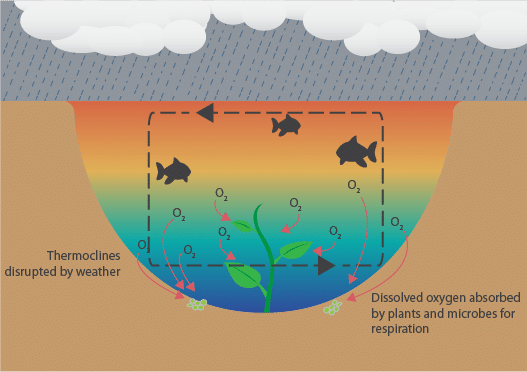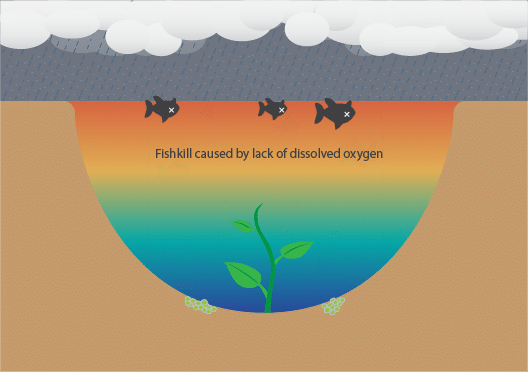 Suggest a Future Article Topic!