STs Series Electrode Removal and Replacement
pHionics electrodes are designed to be simple to remove and replace to save you time and money. A video showing the step-by-step process of electrode replacement is provided in the resources section below, in addition to this instructional page.  If you have any questions or believe there is an issue with your electrode, then please reach out to us using the information on our contact page. 
Required Equipment
New electrode 
pHionics sensor
Recommended Equipment
Safety goggles — Prevents potassium chloride from getting into eyes if it splashes.
Silicon grease — Helps with waterproofing and makes installation process easier.
Container — Used to catch potassium chloride if it spills out of the bottle holding the new electrode (Used for pH and ORP electrodes).
Rubber band — Helps to grip electrode body and electrode connector because the O-rings will "set" over time and form a very tight seal that can make removal of certain parts difficult.
Paper towel

 — Useful for drying off the transmitter.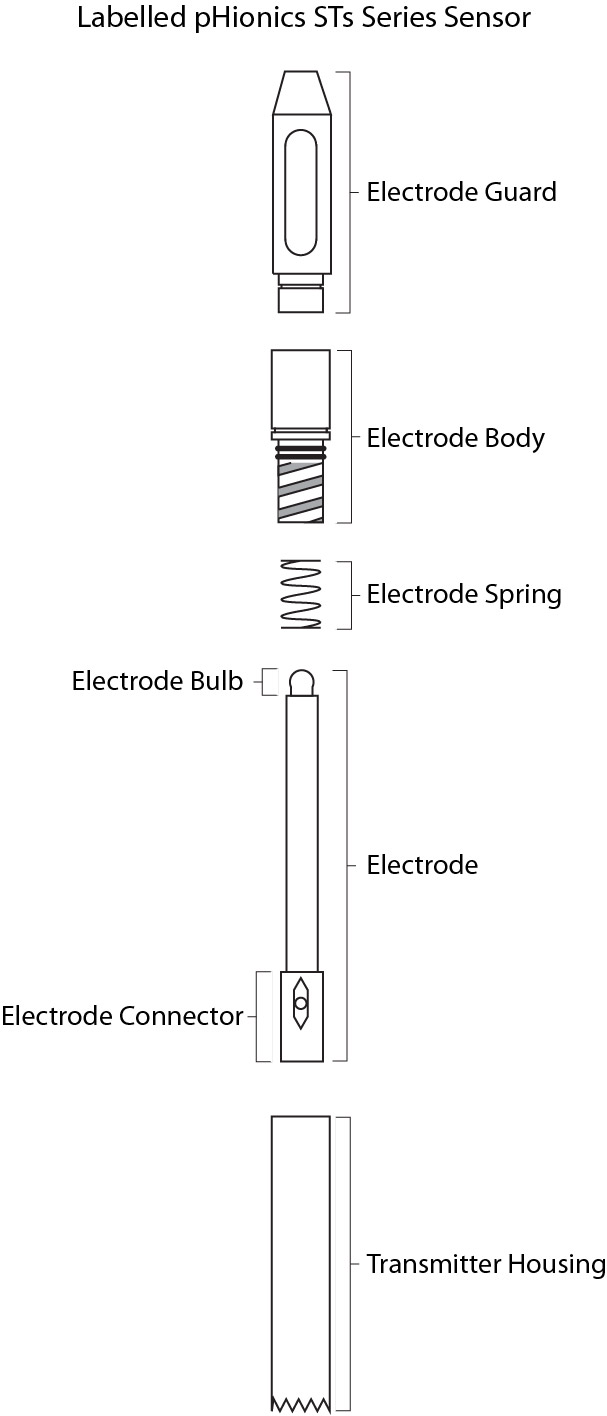 Electrode Removal
For conductivity electrodes, only steps 1, 2, 10, and 11 are relevant. 
Dry off the pHionics STs System if not already dry

 

Grip electrode body with one hand and transmitter housing with other and twist counterclockwise to unscrew the electrode body.

 
The O-rings may have formed a tight seal in the transmitter and made it difficult to twist.  This is called "setting".  If you are unable to unscrew the electrode body, wrap a rubber band around the for better grip.  See the video provided in the Resources section above for a visual demonstration.
3. Grip electrode body in one hand and electrode connector in other to twist and pull the electrode out slowly to avoid damaging the tip of the electrode.
Inner O-rings may have set, making removal difficult.  Wrapping a rubber band around the electrode connector will help with removal. 
4. The electrode is now removed from the electrode body and can be disposed of by following all local laws and regulations.  If the spring came off with the electrode, reinsert it into the electrode body.
Spare Electrode Repacement
Dissolved oxygen electrodes do not come in bottles so steps 5-7 are not relevant.
5. Unscrew cap on spare electrode bottle. 
6. The electrode is held in place with an O-ring. Grip the electrode between the cap and bottle and gently pull until O-ring seal pops out.   
Be careful to avoid brushing the tip of the electrode against the bottle so the tip does not get damaged.
Replacement pH electrode with cap still on.
7. To remove the cap and O-ring from the electrode, slide the cap toward the bulb end until both cap and O-ring are off.
8. Dry the electrode thoroughly with a paper towel. 
8. Apply silicon grease around top inch of electrode.  Avoid getting any grease on the electrode tip. This makes insertion easier and improves sealing. 
9. Insert new electrode inside the electrode body and spring.  Resistance will be met when the electrode contacts inner O-rings.  Gently push past them and continue pushing until electrode connector touches the spring when the electrode connector is depressed as shown in the image below.

10. Reinsert electrode body into transmitter housing and screw in until plastic is flush with the the housing. Do not overtighten as the plastic can be stripped and make removal and replacement of electrode difficult. 
11. Calibrate the electrode. If response time seem slow or drifts for dissolved oxygen, or pH electrodes, rinse the tip with distilled water and place in 0.1M HCl solution for up to 20 mins.  This will remove any dust or debris that accumulated during storage.  Conductivity and ORP electrodes are more durable and can be scrubbed with a soft brush.
If readings remain slow or other issues occur, please reach out to us at support@phionics.com so we can help.